[This semester] I learned the importance and difficulty of providing the process of how I developed the design ideas. Successful projects explain well the reasons why the proposals are important in simple ways so that the audience can understand easily. Thus, it is important to provide not only the design proposal but also the process.
--Yuta Masakane, MLA '19

On April 23, 2018, students' work was presented to a jury composed of Parks For All representatives, New Orleans Recreation Development Commission, a local landscape architect in practice, and faculty.
My proposals for the parks are driven by the historical facts associated with them. I attempted to rejuvenate the public spaces, keeping historical function of that space in mind. For Dublin park, my research led me to develop it as a pedestrian based plaza which would also have space for street farmer's market. Through Hollygrove greenline, my proposal went on to reimagine a jazz hub that was very active during early 1900s and also act as a greenway stretch that would link the neighborhood and provide for open recreational spaces. For the New Basin Canal project, I proposed a link between Laffite Greenway and New Basin Canal up to Lake Ponchartrain. This would essentially link the western end of the city to the downtown with a series of bike and walking paths.
 
Stormwater management in New Orleans is always a primary concern. The city attempts to introduce more Green Infrastructures in the entire city to mitigate stormwater impacts. Open spaces in Bayou St. John Neighborhood have a potential to be a linkage between existing Green and Grey Infrastructure because the neighborhood is adjacent to the Lafitte Greenway, which is regarded as a Green Infrastructure, and existing drainage canals. In addition, Bayou St John (the bayou itself) is culturally attractive to people. The neighborhood is located at the middle between the Lake Pontchertrain and the Mississippi River as well as located at the middle of two large green spaces: the City Park and the Lafitte Greenway. The project here focuses on such environmental and cultural context of the neighborhood and stormwater management.
"Water Management in Culturally Significant Spaces" by Sophie Lott
My concept of, "Water Management in Culturally Significant Spaces" came together after conducting research and analysis, and noticing that many of the district's parks and open spaces had a lack of water management or obvious connection to its community. I choose to modify Zachary McDonogh Place, A.L. Davis Park, and Jeff Davis Playspot for a few reasons, including: 1) They are a sample of small, medium, and large parks within the district, 2) They have historic flooding issues, and 3) They are located in areas that have strong cultural and historical meaning in the city. My goal for these designs is to start a conversation on how open-spaces can be a utility and an asset to the city of New Orleans.
"Reclaiming Common Grounds: Parks for Community Health in New Orleans' District B" by Mai Nguyen
During both the mapping process and initial visits to parks in District B, I noticed several greenspaces in close vicinity to other services and institutions, such as schools, daycares, health clinics, and shelters. I saw these instances as significant opportunities, that upon investigation, have either been unsuccessful, or not explored at all. My interest in healing landscapes led me to focus on parks that could enhance human well-being via these close interactions, especially for underserved populations. This further inspired the idea of a establishing a central care network in New Orleans, that highlights and support the city's community resources by enhancing the common spaces between them.
"Reimagination of NOLA Rivershore: NOLA Mississippi Riverfront Design" by Yongqin Zhao
Mississippi River has been segregated from people and city for centuries. It is physically so close, while distant in daily life. This design tries to open vacant rivershore space and create an inviting place for people. Also, showing people the potential of riverfront space, my final goal is to let people themselves push for a continuous green space along Mississippi River, This green belt, as a landmark, can expand public welfare and provide framework for further city growth for New Orleans.
 
The inspiration for my project came from site observations we made at the beginning of the semester. I saw the tree branches at Woodland Park and thought they made a fitting backdrop to contextualize my designs and my design approach. My entire project, including three park designs, features improved shade canopy as a means of creating space for people to enjoy.
Through my research I learned that there is no free public access to botanic gardens. The Association of Public Gardens lists two gardens in the City of New Orleans that are public but require an entrance fee. If these public gardens require an entrance fee how accessible to the entire population of New Orleans are these gardens?
Botanic Gardens by definition are placed to conserve plant material, but they also play a vital role in educating the public about conservation. Therefore conservation cannot succeed without education and the current inaccessibility in New Orleans, specifically Council District C is very limiting.
Gardens are uniquely placed to teach people about the importance of plants in our lives and in the global ecosystem and by incorporating education into existing open space parks it will truly be accessible to all.
"Algiers Eco-Loop" by Phillip Fernberg
Imagine the Street is a PARK. For the well-traveled, well-read, or urban living person, a smattering of precedents likely comes to mind. The experienced Eurotripper might think of wandering through the tree-lined marketplaces of Barcelona or the feeling of being simultaneously close to nature and city life as they enjoyed a pastry in a cafe overlooking the Seine; A New Yorker might reflect on parklets such as those at 5th and Broadway, which take advantage of the leftover space at intersections to provide respite and people watching; For Atlantans this exercise is visionary, as they look forward to the completion of The Beltline where multimodality and green space meet in a single system. I believe that New Orleans has the potential to institute such a system and that the catalyst lies in the underutilized open spaces and traffic medians of Algiers, which has led me to propose a concept I call the Algiers Ecoloop, a 12-mile linear greenway system which reimagines our most frequented West Bank roads as lively, liveable, and multimodal corridors.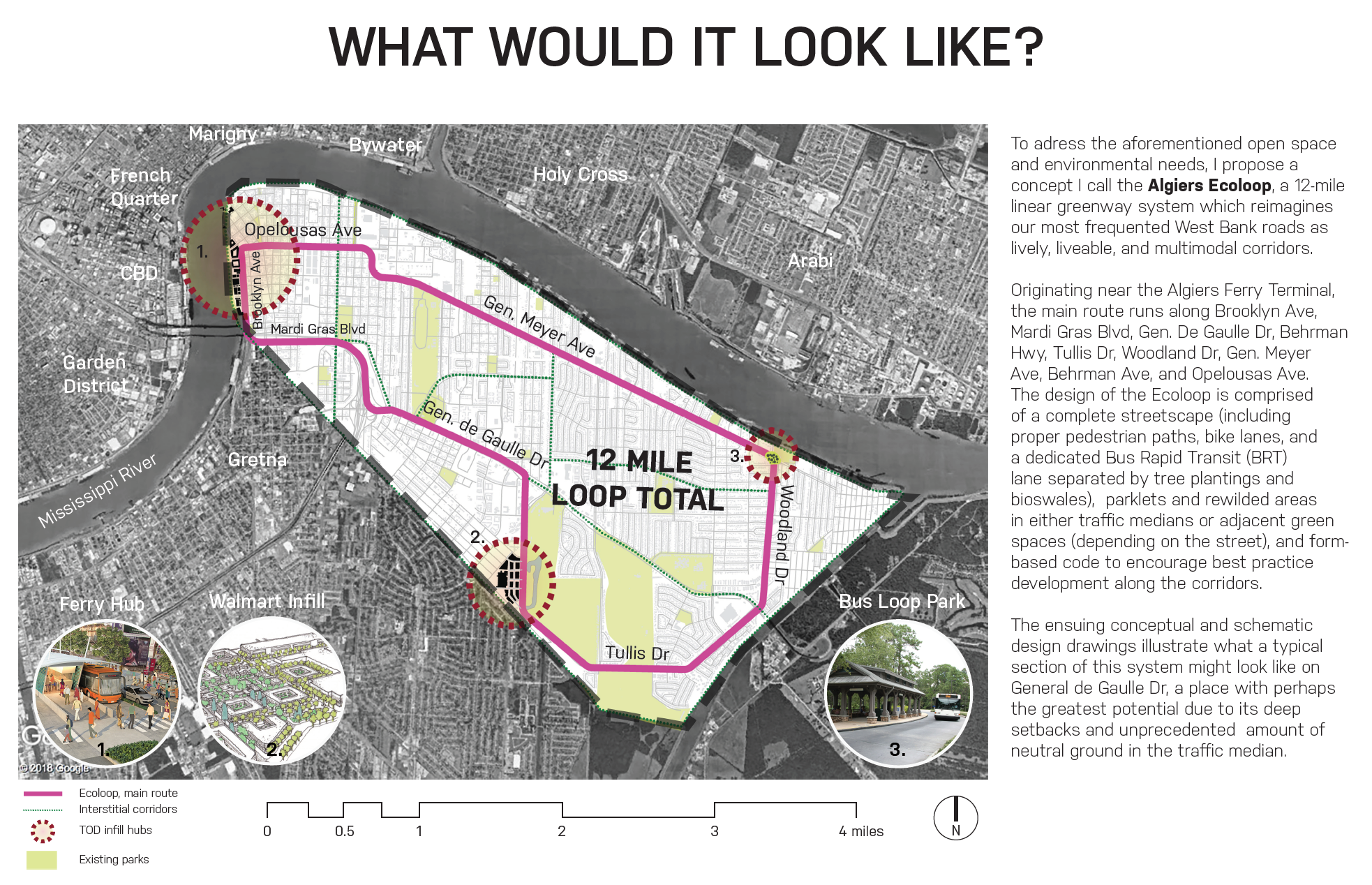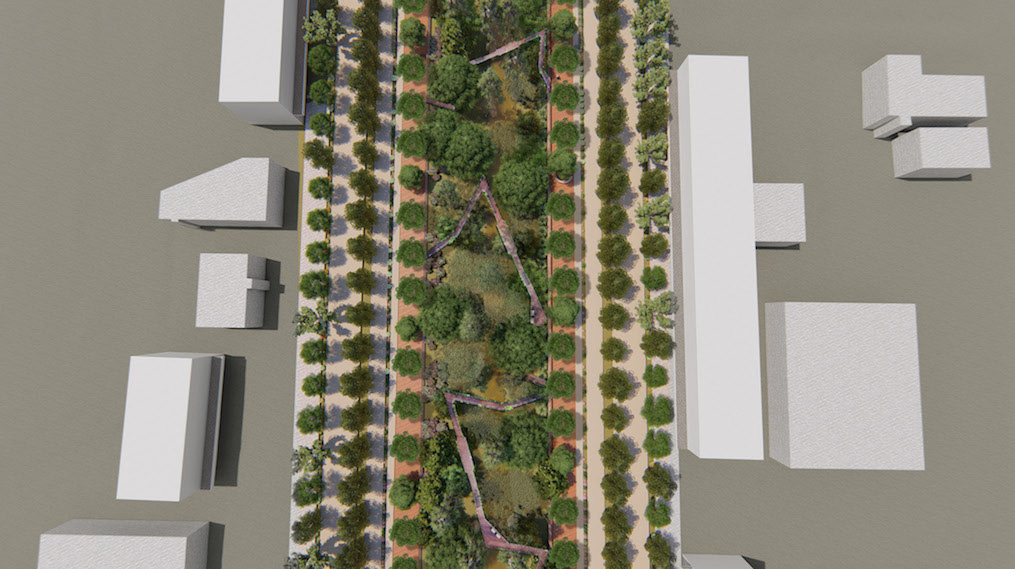 Elysian Fields Street in New Orleans is a historically rich corridor that connects Lake Pontchatrain to the Mississippi river. Its history as a canal and then as one of the first rail lines in the U.S. is reason for a wide neutral ground lying in the midst of the street that is an opportunity for a linear park. My designs attempt to reach into the history of the site and play on its strengths as a connection corridor.
This project is about improving and updating the park system in District D. After several times visiting the site, I realized that there are a lot of opportunities of district D's parks from large scales to small scales.
My three proposals are 1) Re-plan the lake front and redesign the lakeshore park, 2) Design a new skateboard park under I-10 and redesign Hunter Field, and 3) Update the playgrounds in District D, using Sampson Playground as an example.
Gentilly, a broad, predominantly middle-class and racially diverse section of New Orleans, has been gradually recovering from the severe damages left by Hurricane Katrina. Though many local residents did come back, this district still faces several threats, such as incomplete infrastructure, a dissociated park system, residential vacancies, and so on.
This project aims to develop a design framework for two historic neighborhoods in Gentilly through reclaiming and reinterpreting correlations of parks in neighborhoods. The approach emphasizes how different types of parks which are dispersed in the community can compensate for each other, from function composition to transportation connection. This kind of relationship between parks can act as the effective catalyst to promote the development of the entire community.
There are 15 public parks in New Orleans District E, ranging in size from Peace Playground with .3 acres to the largest, Joe D. Brown Park with 187 acres, making the total public park acreage 256.04 acres. This in relation to the total population of the district (65,000 - 75,000 people, 2000 census) makes the average acreage of accessible public parkland to each person .00385 acres. The amount of concrete space in abandoned lots and bare canals is double this.
I propose that New Orleans District E needs more public greenspace.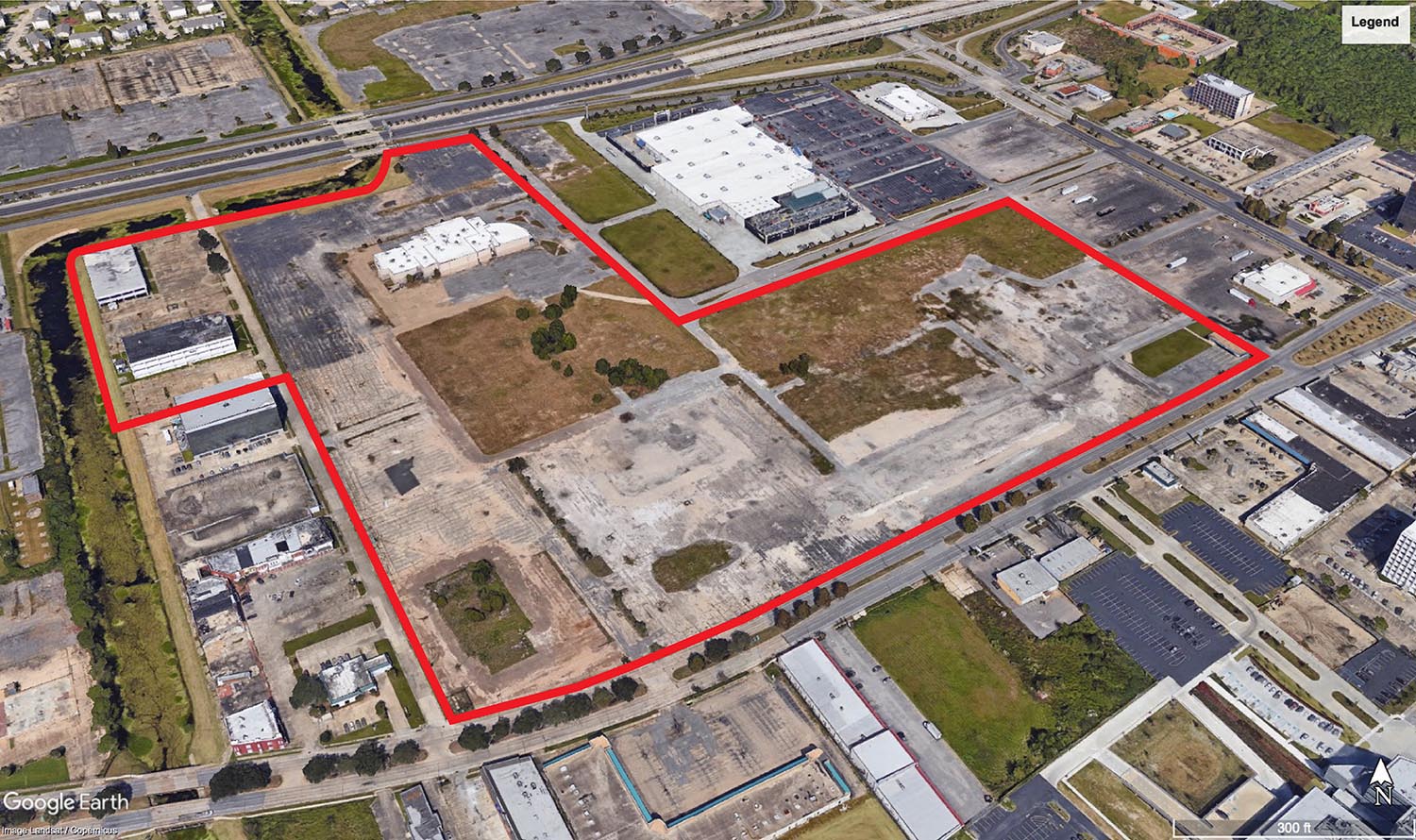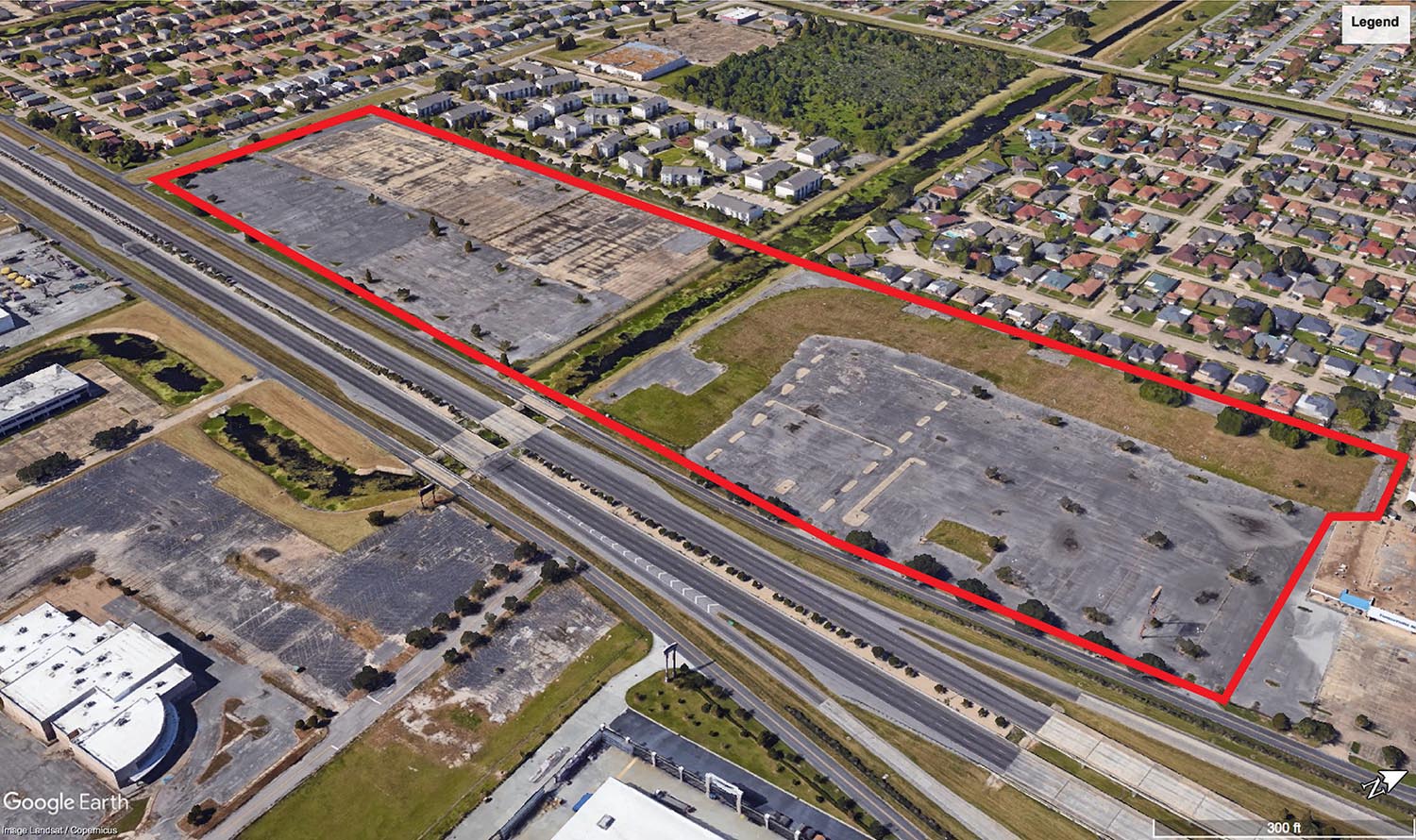 "Recycling the Landscape: NOLA Abandoned Concrete Lots Transformation" by Yue Zhang
The combination of statistics, investigation, and my observations about Little Woods led me to propose four concepts: to reactivate abandoned lots, to transform concrete surfaces, to create a pedestrian linkage, and to invigorate the community. The final goals of my design are to increase interaction, employment, income, attract investment opportunities, enrich residents' daily lives, and retrofit the Little Woods Neighborhood.